Raised Pond with Bar Build
Raised Pond with Bar Build: The client wanted to turn their original 'fish pond' into a koi pond that would also provide a focal point for social gatherings with friends and family. The addition of the pond window allows for viewing from a different angle, and turns what is in effect a standard raised pond into a more accessible feature and garden aquarium.
With the bar, BBQ and outdoor speakers all part of the area, the pond is integrated into the social aspect of the garden and not something people would have to see separately.   Of course, the bar is ideal for the client to enjoy a 'quiet one' in the evenings overlooking the pond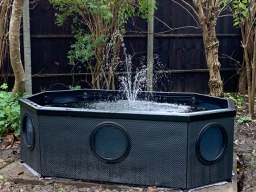 Fish Re-home & Quick Pond Build
We offer free quotes, so please get in touch.